The 2017 Desperado Art Gallery featured artist is Tricky Burns.
Meet the Artist
Saturday, January 28
See Tricky paint live – 4pm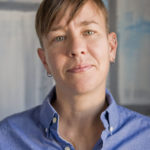 Tricky is a painter, photographer, preparator, philosopher, and teacher. A largely self-taught artist she received her B.A. in art history with a minor in philosophy from the University of Oregon in 2007. Upon graduating she moved to Phoenix to pursue a M.A. in interdisciplinary studies where her research continued to combine art history and philosophy and speaks to the ontological significance of art and literature. Her art is a thoughtful expression of a sophisticated sense of wonder about the world. The vivid colors and painterly strokes of her paintings echo in her photographic work that invites viewers to think about what and how they see. She lives and works in downtown Phoenix as an artist, as well as freelancing as a preparator for the ASU Art Museum and the Tempe Center for the Arts. She also teaches art history at the Art Institute, and volunteers as a docent at Scottsdale Museum of Contemporary Art.
Literally Interpreted
Her recent body of paintings titled "Literally Interpreted" is a series of paintings that were inspired from a variety of textual sources. These works highlight what it means that we are all hermeneutical beings that must constantly interpret existence and the temporality in which we find ourselves. A temporality that is never simply our time, nor timeless, but where the past forms a context of the present as well as where current thought portends the future. These works tarry with ancient and modern thought, from the Vedas, and Plato's Timaeus, to Heideggairn philosophy, contemporary physics, and quantum mechanics.
Everything is Trespassing
Tricky's current photography series "Everything is Trespassing," is part of a larger ongoing project that explores looking beyond where we usually tend to find ourselves. This collection of work comes from the artist having herself go where no one is welcome and capture images that we wouldn't otherwise be able to see. While these pictures can vary from the playful to the haunting, they all invite the viewer to consider what it is to really see what they are looking at.